"POWER PLAY" Lenny Lamb Exclusive PAY IN FULL
$25.00 – $365.00
"Power Play"  is a Lenny Lamb Exclusive designed by The Diaper Drawer
I set out making this design to showcase our family's love for hockey. I grew up watching my brother play hockey until I was a teenager. My husband Billy and I met at a hockey rink in the Crowsnest Pass in 2000 in true Canadian fashion. My husband continued in hockey and went on to play for the University of Lethbridge Pronghorns for 5 years and continues to volunteer his time helping to coach, this year for our local Midget AAA team and our sons team. Our 5 year old son spent his first year in hockey last year and will be starting continuing again this year! I have to admit, I thought I wouldn't like being at the rink, but I loved watching and cheering from the sidelines and look forward to many more years at the rink with our two boys.
I hope that this "Power Play" Print will make hockey lovers worldwide smile, no matter what team you cheer for! (Our house is split, and I won't say much more than that to keep our feet on neutral ground!)
PRE-ORDERING IS CONFUSING AS THERE ARE MANY PRODUCTS SOME OF WHICH INCLUDE FLEECE Color Choices AND Size Choices. PLEASE READ CAREFULLY AND TO THE END.
ONCE PRE-ORDER CLOSES, These products will no longer be available for purchase. 
Pre-order Terms and Conditions:
Prices listed are for the full payment; 50% of this is a non re-fundable deposit. If you choose to cancel your order before the production of your item is complete, you will forfeit 50% of your payment. We reserve the right to cancel the pre-order, should the minimum order quantity not be met by our order deadline (November 1st). If this occurs, we will refund your entire payment in full.  We expect production of items to take 4-6 weeks. Your order will be shipped to you within 3 business days of us receiving them. The Diaper Drawer is not responsible for potential delays in production time. Production is the sole responsibility of Lenny Lamb.
Actual colors of the fabric may vary from pictures. Pattern placement may vary from the one presented in the pictures. The placement picture describes actual placement for the Ergonomic Carrier as well as the Hobo bag, however does not depict color. Colors will be as in woven swatches.
Jacquard Fabric, 100% Cotton. Width of wraps and ring slings is 140 cm.
IN COMMENTS YOU MUST INCLUDE THE FOLLOWING:
FOR CARRIERS (SSC, Wrap Ties, Onbu's) and Hobo Bag
1. Your Choice of placement (100% of the Shots OR Great Day for Hockey)
FOR CLOTHING
SIZE OF THE CLOTHING YOU ARE PURCHASING (measure carefully, due to the custom nature of this order. Items cannot be exchanged or returned)
COLOR OF FLEECE (Grey or Black)
Description
Images in this section are to show you what the specific product is. Patterns in the pictures are NOT what you are ordering. You are ordering the "Power Play" print.
---
Baby and Toddler Ergonomic SSC (Buckle or Soft Structured Carrier)
***** YOU WILL HAVE YOUR CHOICE OF DESIGN PLACEMENT!
Baby Size – Carries 5-20
kg (12-44lbs)
Toddler Size – Carries 9-20 kg (20-44lbs)
LennyLamb Ergonomic Carrier is a type of a structured carrier with a special system of the straps and buckles so as to provide you with a carrier which assures perfect fit. The straps can be worn crossed.
LennyLamb Ergonomic Carrier:
can be used for front and back carry

is made of LennyLamb fabrics – highest quality fabrics made of the finest yarn, all yarn and dyes used for LennyLamb fabrics have the OEKO-TEX® Standard 100 certificate

has certificates of compliance with the ASTM F2236-14 and EN 13209-2:2006 norms

is made in Poland

has a three point safety buckle prevents accidental opening

has four way adjustable shoulder straps for a perfect fit

has an adjustable hood

has a contoured panel, soft padded straps and legs out padding for the baby

---
Fleece Babywearing Sweatshirt – FLEECE COLOR CHOICES (Light Grey, Red, Blue, Navy, Black)
The LennyLamb fleece Babywearing Sweater is the perfect product to keep active parents and their babies warm
outside in fall and winter. Whether you're enjoying family adventures outdoors or just running errands, the thermal properties of the fleece fabric will let skin breathe freely and keep you dry even in extreme weather conditions. It is very lightweight, non-creasing, soft to the touch and quick drying. The fabric is made in Poland and has been certified safe for people and the environment.
Use this sweater for a front or back carry. t has special snug pocket for the baby. There is also a hood attached – it will protect your baby's head from cold, wind and rain. There is a zipper on the right side of the sweatshirt to simplify putting it on.
This sweater is unisex and comes in five sizes: S, M, L, XL and XXL. The attached cowl and accents are made from LennyLamb's stunning woven fabrics.
IMPORTANT: This sweater is not a baby carrier. Use on top of your favourite carrier.
---
Long Cardingan (Sleeves will be grey as in picture, however with the "Power Play" print)
LennyLamb Long Cardigan is a real must have. It will keep you warm and will make you look great! It is made of the very high quality woven fabrics and the sleeves are  made of soft and stretchy ribbing. This cardigan is so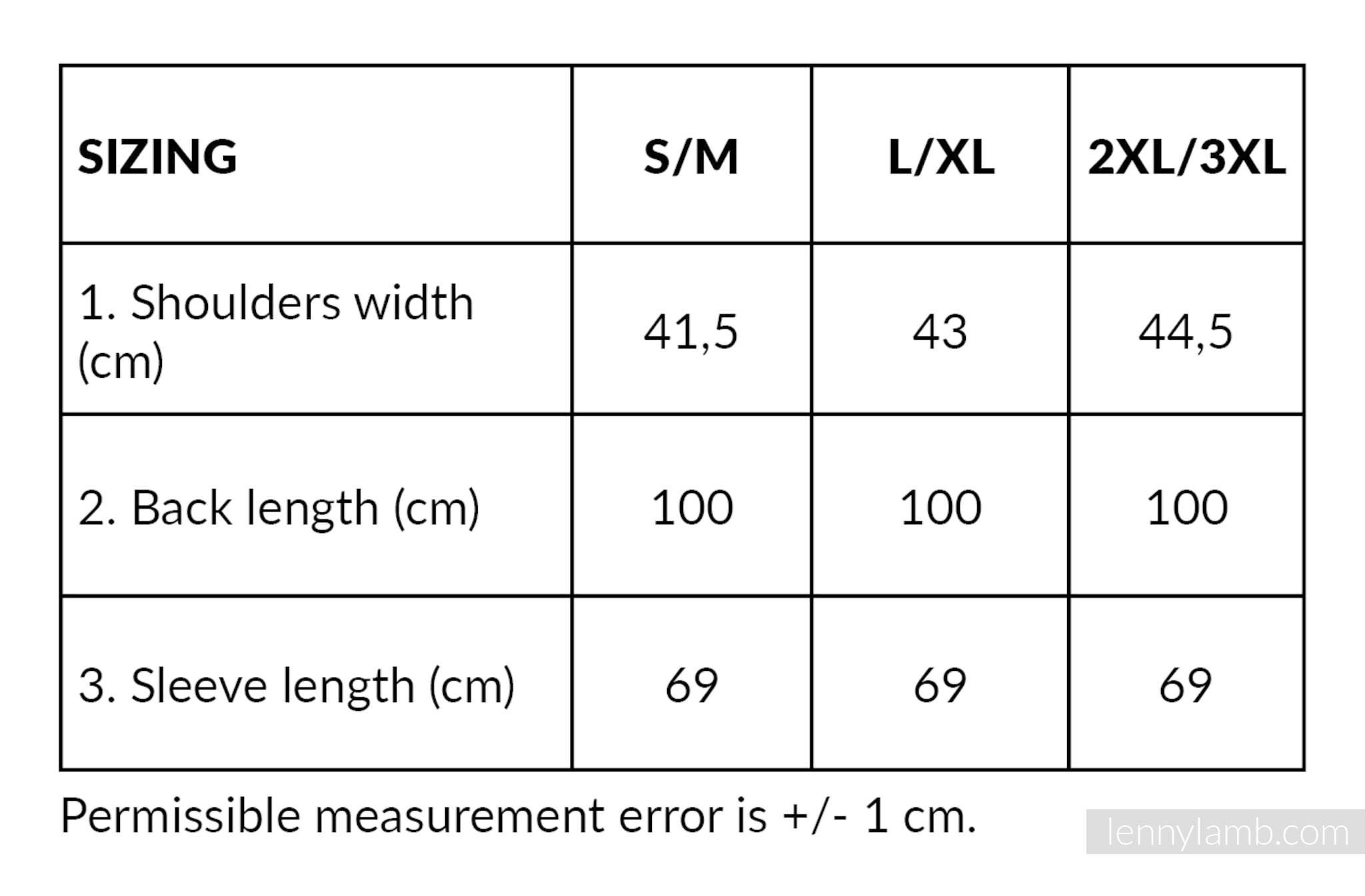 versatile it will work for any woman! Long flowing top, snugly warm pregnancy cardigan and even while babywearing!!
It also proves to be a babywearing cardigan – you can cover your baby worn in a wrap or a carrier. Perfect for keeping your bottom warm at the rink!!!!
---
Bear Romper – FLEECE COLOR CHOICES (Light Grey, Red, Blue, Navy, Black)
LennyLamb Bear Romper is a smart solution, not only for carried babies. Its special, more loose design allows putting the baby in a more comfortable way into a wrap or a carrier. Colourful finishing elements make the romper look cute and cosy which turns everyday walk into a joyful adventure.
Sizing provided in the product description is given in centimeters and denotes the baby's height.
Our rompers are handmade. Each one of them is unique and therefore the pattern placement on the woven fabric finishing elements may vary from the one presented in the pictures.
Note that the sizes listed are in European measurements.  The size number indicates the measurement in centimentres from head to heel.  We suggest you measure your child to get an accurate size fit.  We suggest going up a size if your child measures in between sizes.
Romper Sizes: 62 , 68 , 74 , 80 ,  86 , 92
---
Children's Coat – FLEECE COLOR CHOICES (Light Grey, Red, Blue, Navy, Black)
The children's coat is a unique product made out of one of LennyLamb dedicated fabric. Our fabrics are the effects of exploration and experimentation. We draw inspiration from the world of art, methods of handweaving and fashion trends. All LennyLamb products are single origin – from the design to final product made in one place. 
We've chosen the fabrics for the Coat carefully to make your child look cool and feel comfortable.
It is lined with warm and soft fleece of your choice. It has two pockets and a hood.
---
Sack Pack
All you need can be packed into new Sackpack made out of wrap fabric . And it will suit perfectly to your favorite wrap or carrier! Need something to transport gear or snacks to the rink? This is the perfect bag for you too!
STANDARD SIZE  35 cm X 45 CM
---
Snood Scarf – INNER Fleece will be Light Grey
Snood Scarf will keep you warm on cold days but it is also a very fashionable piece of your wardrobe. It will add some color and stylish look to your everyday outfit. It is also a way to have a piece of your favorite wrap always with you.
Snoods are made in two versions: a lighter one with knitted fabric and the warmer one with fleece.
---
Long Woven Wraps
Those wraps are perfect for long walks, as they distribute weight very well, taking baby's weight off your back and so they are highly recommended by physiotherapists. 
The most important advantage of the wraps is the fact that there are no age or weight limitations.
You can start wearing your baby from day one and continue till your child gives you clear message that this way of travel is no longer good for him or when you decide that it is no longer comfortable because of child's weight.
There is almost unlimited number of carries you can do with a woven wrap.
---
Ring Slings are a versatile carrier. They are perfect for newborns. Also our favorite carrier for quick ups around the house or fast errands while out and about!
Lenny Lamb Ring Sling Features:
Made from 100% cotton and dyes that are Oeko-Tex certified, formaldehyde free
Rings are made from aluminum and contain no weld points.
Pleated shoulder and Gathered Shoulder available
2.1m length
Suitable for infant through to toddler, up to a max weight of 15kgs or 33lbs
---
LennyLamb Drool Pads  are designed to fit perfectly onto our ergonomic carriers. This accessory will make it easier for you to keep your LennyLamb Ergonomic Carrier clean and it will also make it look even more beautiful !
They are made of the same fabrics we use for our wraps and carriers lined with soft fleece!
The set is comprised of a pair of Drool Pads and Reach Straps which will make it easier for you to pull the hood on your baby's head when back carrying 🙂
IMPORTANT INFORMATION: the design pattern placement (thereby also the color) and the color and the design of the ribbons used for the drool pads may differ from the one presented in the pictures.
---
Buckle Onbu carrier is designed for children who can already sit unassisted. It is most commonly used for back carry. Lenny BuckleOnbu is available in one standard size. However, it has a panel that can be adjusted in its width – this makes the Lenny Buckle Onbu a truly universal carrier.
Product Features:
Padded arm straps for support
Soft panel for ergonomic babywearing
Extra padding at leg opening for baby's comfort
Flat hood for head support when baby is sleeping
Available in Standard and Toddler Size
Product Specifications Standard Size:
Panel Height: 34cm
Panel width: 41cm at base, 45cm at top
Hood size: 25cm by 28cm
Maximum child's weight: 20kg or 45lbs
---
Lenny WrapTai is a combination of a MeiTai carrier and a wrap. It has a very comfortable panel that snugs your baby but it also has a four-way wrap straps that will distribute the weight evenly over the shoulders and the upper body. You can use the Lenny WrapTai for front and back carry.
Lenny WrapTai is reversible! Both sides can be worn 🙂
Every Lenny WrapTai is a wrap conversion which means it is made of the same high quality fabrics we use for manufacturing our wraps 🙂
All yarn and dyes used for LennyLamb fabrics have the OEKO-TEX® Standard 100 certificate.
Lenny WrapTai has the certificate of compliance with the ASTM F2236-14 norm.
Product Features:
Wrap Strap arm straps for better weight distribution
Soft contoured panel for ergonomic babywearing
Flat hood for head support when baby is sleeping
Can be worn of the front or back
Available in both a Mini or Toddler size
The WrapTai's are fully reversible – wear either side out, for a different look!
Mini Specifications:
Waist strap length: 105 cm each
Shoulder straps length: 205 cm
Panel Height: 35cm
Panel width: 31cm at base, 45cm at top
Hood size: 25cm by 28cm
Maximum child's weight: 18kg or 39.6lbs
Toddler Specifications:
Waist strap length: 105 cm each
Shoulder straps length: 205 cm
Panel Height: 45cm
Panel width: 36cm at base, 51 cm at top
Hood size: 25cm by 28cm
Maximum child's weight: 20 kg or 45 lbs
---
LennyLamb Doll Carrier is a perfect accessory for your child to join you in the babywearing adventure !
You toddler can wear dolls and other toy friends in a carrier matching your own! How amazing is that?!
LennyLamb Doll Carriers are made of exactly the same fabrics and buckles our carriers are produced. They are safe for children and very soft!
---
Shopping bags are made from the same fabric that are used for our wraps and carriers.
Thanks to this you know you receive a high quality product which is a perfect match with your sling or carrier 🙂
Designand pattern makes this bag an unique and functional accessory that is a must in every wardrobe. 
Bagsare available in one size (33 cm x 39 cm).
---
Shoulder Bag
Beautifully soft shoulder bag! It can be worn to complement your Lenny Lamb carrier or on its own! Lightweight and very roomy, these bags have many compartments and pockets to keep you well organized while showing off some of the most gorgeous prints!
Product Details:
37cm x 37cm
Fabric: 100% Cotton
---
Hobo Bag (Hobo Bag Placement seen Below)
 LennyLamb Hobo Bag is a perfect accessory for babywearing parents who need a spacious bag to have all the necessary things always with them. They are made of the same fabrics that we use for making our carriers and wraps. Thanks to this they are very strong ang good quality. It can be a perfect addition to your Lenny Lamb wrap or carrier. If you no loger wear your baby it can be a nice accessory in the color of a carrier you used to use that will remind you of this beautiful time when you carried your baby close to your heart 🙂
Here is the view of LennyLamb Hobo Bag inside (the design shown in the pictures is random and serves to show the inside of the bag only)

---
Waist Bag
LennyLamb Waist Bag made of woven fabric is a great accessory for babywearing parents.
It will let you have all the necessary items like you phone or keys always with you.
It is made of the same fabric as our carriers and wraps so you can easily make it match your carrier 🙂